Heart of a Coach
October 2010
Q&A with Dabo Swinney




Clemson University
Head Football Coach
As the second-year head football coach at Clemson University, Dabo Swinney is hoping to lead the Tigers to their first ACC Championship in 19 years. After accepting Christ through FCA in high school, the Alabama native (with one of the most memorable names in college football) is focused not only on making a positive impact on the school's record books, but also on the lives of his players and staff.
STV:

You've probably been asked this hundreds of times, but how did you get the name Dabo?
DS:

When I was born, my older brother would only refer to me as, "that boy." Coming out of his mouth as a 17-month-old it sounded like, "da-bo." I guess my parents just thought Dabo sounded good. By the time I was in first grade, that was what everyone knew me as, and there was no turning back. I didn't even know my name was William until my fourth grade teacher took roll and said, "William Christopher Swinney." I thought, "Who is that?"
STV:

What was your first experience with FCA?


DS:

A youth football coach named Stewart Wiley, who I met when I was 13 and who is still a dear friend, started the first FCA Huddle at my high school in Pelham, Ala. I started going because the pretty girls were there, but the next thing I knew, I was learning about the Bible and about having a relationship with Christ.
"Having

the word 'coach' beside your name is an awesome responsibility."

STV: I hear you accepted Christ through FCA. Can you tell us how that happened?


DS:

One of my childhood heroes, Joey Jones, a great receiver at Alabama, spoke at one of our meetings. I was fired up to hear him and thought he would talk about football, but, instead, he talked about what God had done in his life. He offered us the opportunity to be saved, and the next thing I knew I was praying with Joey Jones and accepting Christ as my Lord and Savior. I went home that night and wrote in my Bible, "February 3, 1986 – I dedicated my life to the Lord today, and He will be with me forever."
STV:

How has that decision affected your life?


DS:

Every five or six years, I sign my name in my Bible and update where I am in life. I've had lots of ups and downs and struggles just like everybody else, but, because of that decision, I've had the true peace, happiness and hope that can only come from having a solid spiritual foundation in knowing Jesus Christ as my Savior.
STV:

As a Christian, what is your opinion on the power of a coach's influence?


DS:

It is an incredible responsibility, and I don't take it lightly. I understand that my job is to coach football, but I also feel that it is my responsibility to make sure the players have the opportunity to grow in every area of their lives. I try to make sure we have all the resources here for these guys to grow athletically, academically, spiritually and socially.
I hope I can be the head coach here for a long time, but, more than anything, I hope I can make a difference in the lives of young people by how I live my life. Billy Graham once said that a coach has the opportunity to influence more lives in one year than most others do in a lifetime. Having the word "coach" beside your name is an awesome responsibility.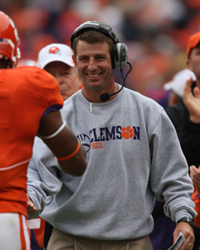 About the Coach:
Alma Mater:

University of Alabama



Current School:

Clemson University


Location:

Clemson, S.C.

Family: Wife – Kathleen, Children – Three sons: Will (12), Drew (10) and Clay (7)



Coaching Summary:

Swinney is in his second season as the head coach at Clemson after serving as an assistant from 2003 to 2008. From 1993 to 2001, he served as an assistant at the University of Alabama where he'd played as a wide receiver from 1989 to 1992 and helped the Tide to a national title in his final season.



FCA Staff Quote:

"I believe that Clemson is one of the godliest public universities in our nation today and that Coach Swinney is a big reason why. His influence on his team, coaches, and on the Clemson community has been tremendous." –

Josh Gregory, FCA Area Representative South Carolina