Heart of an Athlete

March 2011
Q&A with Caroline Smith

Florida State Swimming




"Take delight in the LORD, and He will give you your heart's desires." – Psalm 37:4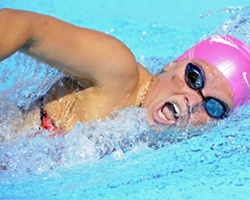 Florida State University sophomore Caroline Smith made an immediate splash with the Seminole swimming team when, as a freshman, she set the school record in the 500-yard freestyle. Even more impressive was the fact that she did so while turning in a stellar classroom performance, earning ACC Honor Roll honors and a 4.0 GPA. Still, as member of FSU's FCA leadership team, Smith knows the records and honors are blessings from the Lord, whom she joyfully worships both in and out of the pool.
STV:

Were you a natural-born swimmer, or did you ever doggie-paddle like the rest of us?

CS: I took to the water naturally. I'll never forget my mom begging me to get out of the bathtub as a little girl. I loved being around the water and spending my summers at the local pool and at swim camps.
I did have to work at the competitive side of it, though. In my very first race I finished dead last and was lapped along the way. But my mom says that after that race I was smiling like I'd won. I was just happy being able to swim. It didn't matter what place I finished; I just loved the sport.

"You can't sprint and expect to hold on; you have to be patient and endure."

STV:

You swim distance races at Florida State. What's the key to success in those events?

CS: It is all about endurance and patience. I'll swim about 400 or more laps in practice to build my endurance. Practice also helps me with pacing and teaches me to be patient during competition. You can't sprint and expect to hold on; you have to be patient and endure.
STV:

In 2008, you qualified to compete in the U.S. Olympic Trials. Is it still a goal of yours to compete in the Olympics one day?

CS: I think, at some point, every kid dreams of competing in the Olympics. If I made it to those starting blocks I would be very appreciative to God, realizing that it wouldn't be just my efforts but His grace and the help of the people around me who got me there. But right now I'm taking one day at a time and focusing on the goals of an ACC Championship for our team and individual championships in my events.
STV:

What do personal accolades mean to you in light of your relationship with the Lord?

CS: I know they are blessings from Him, and they've had a huge impact on my faith. I believe the truth found in Philippians 4:13: "I am able to do all things through Him who strengthens me." If it wasn't for God, I wouldn't be where I am today. I prayed a lot about where I should go to school, and I know my prayers were answered. God led me to Florida State, and the people here have really blessed my college experience.
STV:

Is FCA a part of that sentiment?

CS: Definitely! Sometimes God drops down on the priority list, especially in the lives of athletes who have rigorous schedules and schoolwork. But FCA has helped me put Him first. It has encouraged me to grow stronger in my faith and reach out to others. The guidance we get through FCA helps mold us into who God made us to be.
The people I've met through FCA have been great, too—especially our leaders, Denise Bernath and Reggie Hutchins. It's awesome to come together as athletes who have the same goals and ambitions of wanting to represent our teams well and serve God the best way we can.