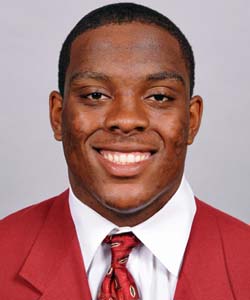 Devon Kennard
Defensive End
University of Southern California
"Now faith is the reality of what is hoped for, the proof of what is not seen." – Hebrews 11:1
As a junior at the University of Southern California, Devon Kennard is familiar with the difficulties that come with being a collegiate student-athlete—both common (position changes and injuries) and unique (coaching changes and university-related NCAA sanctions). But for this starting defensive end, who is in full pursuit of Christ, the challenges have only deepened his faith and fueled his passion to lead his teammates and USC fans closer to the Lord.
STV:

What has it meant to play football at tradition-rich USC?

DK: It's been an honor. Growing up—and even now—USC is the school for so many people. The brand we wear on our helmets is unlike any other. It's my hope that those of us on the team who follow Christ present ourselves in the right way. His is the image we want to portray to people and to the community.
STV:

How have the recent NCAA sanctions against USC affected you specifically?

DK: I feel like God has definitely tested me in many ways. I've only been here for three years, and I've experienced things many athletes never have to face with coaching changes and NCAA sanctions, as well as position changes, injuries and surgeries. Through it all I have tried to give Him the glory because He's led me through it. I truly believe He has plans to prosper me and not to harm me, as it says in Jeremiah 29:11.
STV: How do you bring the Lord into the game?

"...we need to realize that our time is now!"
DK: I don't go to a game—home or away—without my Bible. I like to read Ephesians 6 about the armor of God, and I go into every game knowing that I am protected by Him.

God is the One who has given me the skills to be in this position, and I thank Him for that. It's easy for athletes to build themselves up when things are going well. But, as Jesus said in Matthew 23:12, "Whoever exalts himself will be humbled, and whoever humbles himself will be exalted." I want to remain humble because otherwise I know I will be humbled.
STV:

How has FCA made an impact on your faith?

DK: FCA creates an environment where Christian athletes feel safe. We do the same things, live the same lives and are dedicated to Christ. It is relieving to know there are other guys on the team who have the same goals and who are trying to walk in faith. You don't feel like you're fighting the battle alone.

At USC, we do our best to reach out to our teammates. Last season after every Thursday practice, a group of us prayed on the field, and, toward the end of the year, more and more guys started coming. We looked at it as a definite positive that they wanted to be a part of it.
A lot of people my age tend to put their faith aside. They try to live the college life and do the college thing, but we need to realize that our time is now! There's no point in waiting. Having FCA on any campus is important because there are people who need it—Christian athletes who need that outlet or who are on the brink but don't have anything connecting them to Him. FCA can really help fill that need.

About the Athlete:




School:

University of Southern California


Hometown:

Phoenix, Ariz.


Year:

Junior


Position:

Defensive End



Notes:

• 2009 Pac-10 All-Freshman first team (ESPN.com and The Sporting News)
• 2010 Pac-10 All-Academic second team



FCA Quote:


"Devon has stood out as a leader both on and off the field. We've gone through multiple Bible studies together, and it is evident that he has a passion for Christ and for strengthening those around him."

– Matt Barkley USC quarterback FCA Huddle Leader