Heart of an Athlete
December 2010


Q&A with Rocco Grimaldi
USA Hockey
Naitonal Under-18 Team



"I can do all things through Christ who strengthens me."

– Philippians 4:13 (NKJV)
In August, Sports Illustrated tabbed 16 athletes as their "Stars of Tomorrow." One of those talented, young competitors was 17-year-old Rocco Grimaldi, who has accumulated a long list of athletic achievements even though he's still in high school. This month, we discovered that there's more to this young hockey phenom than great puck-handling skills. One thing? His desire to bring Christ to the world of hockey one teammate at a time.
STV: What was it like being in Sports Illustrated as just a 17-year-old?RG: Obviously that opportunity was from God, and I feel really blessed. I know a lot of people—especially kids my age—don't get that chance. So, it was a real honor that they chose me out of all the kids who play hockey.
STV:

Do you feel any pressure playing for the USA Hockey development team and being dubbed a future hockey star?

RG: It's a great feeling having the USA on my chest and representing the nation. But while it's a great honor to represent our country, I don't feel pressured by it. God has blessed me with it, and if I keep glorifying Him, He will continue to bless me. He's already blessed us all with His Son's blood, and His grace has already been given to us; it's just a matter of us accepting it. I think things like SI are different blessings, and I appreciate

"...while it's a great honor to represent our country, I don't feel pressured by it. God has blessed me with it..."

those things but in a smaller way when compared to Christ.
STV:

When did you begin your relationship with Christ?

RG: When I was 4, my mom asked me if I wanted to accept Christ, and she told me, in words I could understand, what that meant. I asked Him into my life right then, and I've been growing in my faith ever since. My grandma was a really big factor in that as well, always teaching me little things and giving me verses to read and study.
These past two years have been the biggest years of my life regarding my faith. We are plugged into a good church, and I have friends who build me up, and I build them up. A couple of summers ago, a Bible teacher challenged me to read the entire Bible in 90 days. I did, and it has done wonders for me because God showed me many amazing things.
All of those things—having a church life, continuing to read and study the Bible, and having people in my life like my parents, my grandma and my sister—have really helped build my faith.
STV:

Have you been able to share your faith with your teammates?

RG: Absolutely. With all of the hockey camps I go to for the U.S., I've had the chance to minister to every roommate I've had. Several of them have even accepted

Christ. I also had a roommate at the Under-18 World Championships who asked Christ into his heart the day before the gold-medal game. That was cool. Kids are always asking me why I don't swear and why I don't do certain other things, and it's good when they start asking questions like that. I try to live it out and, as it says in the Bible, do all things for God. I try to use my hockey ability and play for Him.
STV:

How have you been involved with FCA?

RG: I'm in FCA at school and have made some really good friends. It's a great thing, especially in public schools where you don't hear about God in the classroom. It's cool to then go to a class and know you are around fellow brothers and sisters in Christ.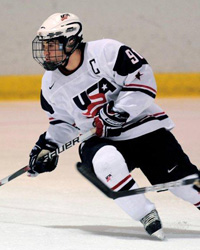 About the Athlete
Hometown:

Rossmoor, Calif.



Team:

USA Hockey National Under-18 Team



Position:

Forward
Notes:

• World Under-17 Hockey Challenge, Gold Medalist (2010)
• IIHF World Under-18 Championship, Gold Medalist (2010)
FCA Staff Quote:

"I'm excited to see what the Lord has in store for Rocco over the next several years. His dedication and determination to both the game of hockey and our Lord Jesus Christ makes him a true role model for hockey players of all ages."
– Rick Randazzo, National Director, FCA Hockey Ministry